Living abroad is no longer just a dream for retirees or people that are self employed. In fact, more and more people are moving abroad to start new lives in new places and loving every minute of it, no matter what their career is, what skills they possess, or what age they are. However, it isn't all fun and games and if you want to live abroad then chances are you are going to need to find a job to support your new lifestyle. When it comes to working abroad there is one thing that tends to be universal, you are probably going to need a work visa no matter where you go.
Maybe you just received a promotion that is moving you abroad. Maybe you have just decided you have had enough and need to get away. Or maybe you just landed that dream job abroad that you have been aching for over the past few years. Whatever your situation is, obtaining a work visa is one of the first steps you are going to have to take. The problem is that many soon to be expats have no idea how to go about doing that. So to make the transition abroad a little easier we have outlined a few simple steps so you can learn how to get a work visa, and see what else the world has to offer.
The mission isn't exactly going to be easy, and you may run into some roadblocks along the way, but the rewards of moving abroad can drastically outweigh the drawbacks over time. To help you get on the right path here are 6 steps for obtaining a work visa.
How to Get a Visa for Working Abroad Step #1- Plan Ahead
One of the first things that many expats learn is that obtaining a work visa and getting through the visa application process always seems to take longer than it should. Even though you may assume that because you landed a job you will get a work visa, that isn't always the case. It is best to start the entire process for your visa application for working abroad as early as you can and make sure you have all the necessary documents. The last thing you want is to realize you do not have the documents ready in time, which may prevent you on your mission to get a work visa.
How to Get a Visa for Working Abroad Step #2- Lock Down References
While you may only think that references are important in order to get a job, you also need solid references for a work visa and the entire visa application process. If you can find references that solidify you as a stand up citizen and a hard worker then there is a much better change that the immigration office will speed your visa application towards acceptance. Do your best to make sure that your references cover everything you have accomplished in previous jobs, and that the references you list are more than willing to accept calls and discuss your achievements.
 
How to Get a Visa for Working Abroad Step #3-Compile and Submit Proper Documents
To get a work visa for any country you are going to have to fill out a formal visa application, which means paperwork and a number of copies of all your documents. The specific documents do vary from place to place but you are going to need more than just proof of employment. Always be sure to possess a valid passport and that it is nowhere near expiry. In certain circumstances you also might need extra documents such as bank statements, education certifications, tax returns, investment details, a marriage certificate, a police check or even a health report. There is potential for an incredibly large amount of paperwork so make sure you stay organized and keep a solid paper trail for all your documents.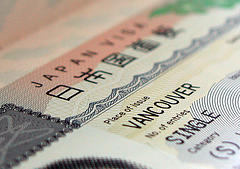 How to Get a Visa for Working Abroad Step #4- Realize the Cost
Moving abroad can get quite costly in the short run and you should keep in mind that some countries charge a fee in order for you to get a work visa. You will have to look into each situation separately so that you can understand the full cost of your visa application process. Most expats will also have to show proof of income to prove that they will not become a burden to the country. You can do this through a sponsorship or on your own. A smart choice would also be to take out a personal insurance plan for yourself that covers any unexpected costs, especially medical ones that you may come across over the course of your stay. 
 
How to Get a Visa for Working Abroad Step #5- The Waiting Game

Getting a work visa is going to take time. Gathering all the documents, proving your identity and filling in all the paperwork is just part of the process, and now you have to wait even longer. Sometimes getting your hands on a work visa for a country can take up to a few years depending on where you are going. Get prepared for the process to take time and remember that immigration departments are known for moving slowly. Patience is a virtue, especially when it comes to work visas.
 
How to Get a Visa for Working Abroad Step #6- Stay Up to Date

It is quite possible that your work visa may change or even expire while you are working abroad. That is why it is up to you to keep your work visa for the country you are living in up to date at all times. Immigration isn't going to let you know if something changes or goes wrong. It is also your job to make sure you leave the country before your visa expires as you can be arrested or even banned from a country for staying beyond the date stated on your visa. Be aware of the rules and regulations when it comes to your specific work visa and always be prepared for change.
If you need any further assistance or information, when it comes to obtaining a work visa for different countries, then your best bet may be to contact Global Visas. The company is known for providing up to date information and help for soon to be expats, as they provide assistance to individuals and corporations from all over the world who are looking to move and work abroad.