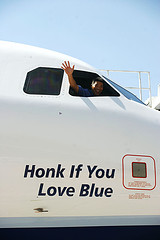 Admittedly I am a little late on this news but it definitely still needs to be mentioned. JetBlue has officially suspended sales for their newly announced "All You Can Jet" deal due to overwhelming support and a rush to get a hold of these tickets.  To reiterate, the deal included as many flights as you could handle from September 8th to October 8th from and to any of the 56 cities that the airline serves, for just $599.
 
When the deal was announced on August 12th JetBlue let it be known that customers would be allowed to buy the pass up until the Friday night or until sales ran out. A spokesperson for the company has stated that the company does not want to sell so many passes that it is impossible for people to actually get tickets when they want them, so they put a halt to the sale.
All You Can Fly is a Smashing Success
Any scepticism for the deal that I pointed out in an earlier article needs to obviously be put aside. The deal was a smashing success, a brilliant campaign and an excellent marketing idea. JetBlue simply cannot be any happier with the way sales went and with how much publicity they received from all over. There were bloggers like Perez Hilton talking about it, twitter blew up about it, and NBC Today talked about it on and off. If you didn't know what JetBlue was before you certainly do now, and that must have the point of the entire sale.
Insiders in the travel industry are still talking about it and acknowledging how surprised they are at how much attention the offer received. It was a truly creative promotion and creativity is something that we have not seen with airline marketing in quite some time. What may be the most surprising part of the entire all you can jet campaign was that no other airline jumped up or even attempted at matching the pass offered by JetBlue. There is some debate as to why that happened and why other airlines didn't step up but many feel that it must be due to the very loose restrictions that came along with the deal.
An Unlimited Travel Deal That Couldn't Be Matched
The point is that it would have been incredibly difficult for the "legacy" carriers to pull this off and put the plan into their complicated reservation systems. It would have been too complicated considering all the different partners the airlines have and all the different planes themselves.
While many people do admit that the loose restrictions affected the way many travelers could use the pass, the fact is that the deal worked brilliantly. People that bought the passes are excited, it drummed up a ton of business in what is known as the dead season for airlines and it got JetBlue's name out there.
I would love to hear from more of you guys and especially anyone that purchased the pass. Give us your feedback on what you think of it and how you will be using the pass. I for one am praying that someone takes a whole month of work and travels from place to place for just $599. Imagine how thrilling a month long blog post like "30 flights in 30 days" would be? I guess I missed the boat on that one, sorry guys. 
No items matching your keywords were found.