It is Time to Make your Balinese Dreams Come Alive
The time to act on Bali is now, or maybe even a year or two ago to be honest. The foreign population has yet to take over and skewer the cheap prices and relatively low cost of living and the warm, inviting culture is still abundantly prevalent. Whether we want to admit it or not, the more expats that head to an area the less attractive it becomes for a lot of people. That is, unless you are just looking for a home away from home that offers the same prices, foods, housing, and so on. Just look at Costa Rica and possibly Panama within another couple of years. Real estate prices have soared and everything is becoming a little more "Americanized". Whether that is a good thing or not is entirely up to you.
Besides being awarded the classification as the world's best island, Bali has much more to offer, such as world famous Bali Scuba diving, Scuba safaris, a rich aquatic life, many water sports, and a break from the contemporary fast world. Bali is an Indonesian island that truly does set itself apart from other parts of the world when it come to splendour and beauty, yet still allows for a comfortable transition abroad. The island provides you with a break from the hectic life that you have become used to and gives you the chance to move slower and feel calmer than usual. With a population of no more than 35 hundred thousand the island is a sheer treat to be at.
Bali is still considered a "hidden gem", but it will not be hidden for much longer. But what exactly does Bali have to offer for someone looking to move abroad? How can you find a way to live in Bali or find a job in Bali? Well that is what we are here for. Let's delve a little deeper into the topic of living and working in Bali, and making your overseas living dreams come alive.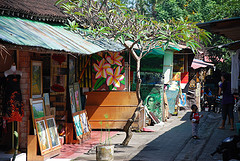 Culture in Bali, Indonesia; Tira Hita Karma
Life here in Bali means a relationship between God, humans, and their environment. The recent hike in the tourism industry has led to a change in the lives of the Balinese people to some extent, but Balinese culture is still something that makes Bali different from the rest of the world. The population is basically concentrated on the islands of Nusa Penida, Nusa Ceningan, Nusa Lembongan and Serangan. The majority of the people here follow Balinese Hinduism as the main religion. Farming, fishing, craftsmanship, and trading are the traditional occupations even though there is more emphasis being placed on tourism and the hospitality industries these days. Balinese and Indonesian are the most widely spoken languages although, thanks to the tourism development, English has gained its place as the third most important language in the country. The country has a very rich, diverse, and flamboyant culture that focuses on all sorts of arts and crafts. Bali is especially famous for its dance, drama, and sculptures.
Weather and Climate in Bali
Climatically, it is tropical all year round here and there is no need for winter jackets, or even jeans. However, you should be prepared for rain on any given day, yet it will do nothing to dampen your mood when living in paradise. The temperature is constant at around 30 degrees Celsius and it can be highly humid at times. In terms of the peak seasons, May to August are generally considered to be the best months to travel to Bali but this is a destination that really lacks an off season, unless you are incredibly picky.
Traveling to Bali
The increasing number of direct flights to Bali has made it easier for people to travel here and access the wonders that are abound. There are daily connecting flights from Singapore, Hong Kong, Perth, Jakarta, Melbourne and Sydney just to name a few. While the routes are most popular in between April and September you may be able to find a number of tantalizing deals if you try to snag a flight in early October or the end of March. While checking the airline time tables, you should make sure to look for Denpasar instead of Bali, and that is a fact many travelers neglect which causes them to struggle to find flights.
If you want to get a little more creative when traveling to Bali and engage in a unique experience, you can also access Bali by sea. The main sea route is via a ferry from the eastern tip of Java, which also happens to be one of the most populated islands in the entire world.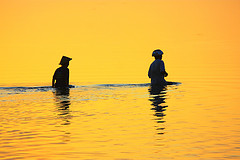 Balinese Currency and Cost of Living in Bali
The Indonesian Rupiah is the currency of Bali. At the moment this article is being written the current conversion is 1 USD = 9,878.09 IDR. For up to the minute currency exchange and conversion information XE.com is a great place to start. The cost of living in Bali is relatively lower in comparison to many parts of Europe, the USA, and even some countries of Asia. However, Bali is not the least expensive place in Indonesia as a number of the surrounding islands possess a lower cost of living, but a far lower standard of living as well. There are other costs in Bali that may have you feeling you are being overcharged, but this is mostly due to the island lifestyle and the import costs pertaining to certain goods and services.
Telephone bills tend to be pricey and electricity can get costly. Keep in mind that the true cost of living in Bali is really left up to you. The more westernized that you want to live, the more you can expect to pay to live "comfortably". If you are willing to dine on local cuisine, cut out television and other western necessities, and wrap yourself up in Balinese culture, there is the opportunity here to live overseas on a dime. If you can afford to live a lavish lifestyle by all means go for it. On the other hand if you are looking to save money by moving abroad, then you can benefit greatly from blending in with the local economy.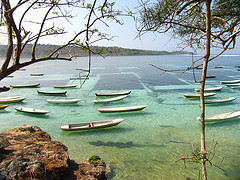 Working and Finding a Job in Bali
From the work point of view, tourism in Bali attracts a lot of immigrants and foreign workers. Bali is a country that is starting to thrive on tourism and thus there are a plethora of opportunities for English workers to land jobs and make money abroad. If you are interested in that type of work then the first place you might want to look is in the direction of hotel management. You can also get in contact with tour companies and services and inquire about jobs as a tour guide for English speaking people. If you are in the exporting and importing industry then you may also find possible employment in Bali, as a number of goods are brought in and out of the country at all times. Bali has a rich form of art and culture which is desired around the world, and obviously the country needs to import a number of products in order to thrive.
Working Visa and Residency Visa in Bali
Expatriates must possess a KITAS visa to work in Bali and without one you may be subject to a very heavy fine. Two main business licenses that Bali expats often apply for are CV and PT. A CV basically caters to small scale business whereas a PT relates to large scale businesses. On a side note it is important to keep in mind that working in Bali does include dealing with suppliers, employees, and customers which is not necessarily a cake walk.
Even though there are many jobs that cater to foreigners, the Indonesian government does not entertain the thought of many foreigners being recruited to their land given the high rate of unemployment. The Balinese government is wary of the impact an abundance of foreigners can have on the country and are trying to avoid giving jobs to expats that can be done by natives. Thus, your best bet is to seek out jobs in Bali that cannot be fulfilled by locals and require special skills that you can bring to the table. Hotel professionals and language teachers (preferably English) may still find it easy to fetch a job though as these are the two professions that often cannot be done by many citizens in Bali.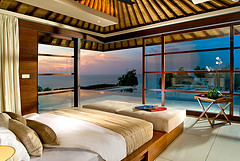 Housing and Accommodations in Bali
One of the most exciting things about a potential move to Bali is the price of real estate. There really is an endless list of housing options and choices that can meet any budget. You can invest in a luxurious villa with all your savings simply rent out a small beach hut for just a few thousand dollars a year. With a huge number of real estate companies moving into the country, there is housing that fits in any budget readily available.
Living in Bali, as previously mentioned, is cheap and can be an incredibly rewarding as long as you are prepared and determined to adapt to a new way of life. The laid back atmosphere, the warm, art-filled culture, pristine beaches, and dazzling attractions make Bali the perfect place to vacation, and an even better place to call home for some people. Dig deeper into what Bali has to offer. Plan an action packed vacation to Bali. Get in touch with expats who live there or have traveled there before. Do whatever you can to find out just how much this paradise has to offer, and then it will become pretty obvious what your next step should be. So long as you are ready for the commitment.
Are there travelers who have had bad experiences in Bali? Of course. Are there some people that will tell you that Bali has an abundance of economical and sociological problems? Absolutely. However there are thousands of people who will rave about what this island has to offer. What you make of your Bali experience is entirely up to you.
No items matching your keywords were found.