Aren't you sick of all those retirement planning guides that you see on the internet, on TV, and even in the mail? Doesn't it seem like they do not actually apply to the people who really need retirement savings help? Every time I watch one of the commercials or hear some other financial expert tell me that I need to start saving 25% of my income every month, it just makes me want to crawl back into bed and give up. It can't be just me either, as the recent downturn in the economy has meant thousands of people lost a big chunk of their 401k savings and even more people have lost their jobs altogether.
Even before this recession came about companies were slashing pension plans and retirement funds like it was their job. So what can you do aside from having to move back in with your kids when the time comes? Get a new full time job, go back to school, start all over? The good news is that you do have more viable options for a happy retirement, but it isn't going to come easy.
What does Retirement Mean to You?

Before you can go about planning your perfect retirement you need to be able to define what you want in your life. If your goal is to own a luxury yacht, cruise the world and live on champagne and caviar, you definitely have your work cut out for you and this article may not be for you. In all likelihood though, your goal just may be to get out of your mundane routine, say goodbye to your boring job, and be happy. While you may dream of retirement for the freedom and the chance to spend more time with your family, money is going to be an important part.
So get out a pen and a piece of paper and write out exactly what you want your retirement to be like. What do you see yourself doing on a day to day basis? How much is what you are doing or where you are living going to cost you? How does it feel to finally have that freedom? What can you do now that you never had the opportunity to do before?
You are never going to get the retirement you desire until you figure out what exactly it is that you want.
Peruse your Dreams for Side Income
Everybody has talents and hobbies. The fact is that these hobbies can often prove to be a nice way to add a little extra income to your retirement. Whether you enjoy writing, cooking, hunting or sewing, having the time to do those activities is probably one of the things that most excites you about retirement. The real question is whether or not you think it would be less fun if you did it as a way to make money.
Every little bit of income can help when it comes to retirement, and with the growth of the internet there are more and more ways to make money through your passions. Blog about what you are doing, consult people online, or even teach a class once or twice a week. Many soon to be retirees actually end up starting a small business because they have to and then realize just how rewarding it is, financially and emotionally. Your passions may even allow you to make money from wherever you choose to settle down in the world, whether it be a cottage in Canada, a tiny sailboat in the Caribbean, or a beach hut in Ecuador.
Take a Clue from Corporations and Downsize

If you get used to cutting back on certain things now you will not only have more money later on but you will also be comfortable without a lot of luxuries. If you live in the lap of luxury and then instantly cut back when you retire there is a big chance you will go through withdrawal or be downright depressed. This doesn't mean you have to cut out everything fun but just be more aware of the money you spend. Ask yourself which expenses you could easily live without and which ones actually give you a lot of pleasure.
Even cutting down from a Café Mocha at Starbucks everyday to once a week can save you $100 a month. Write down everything that you spend money on and become conscious of how often you pull out your wallet. A few cut backs and you could have a healthy little nest egg that could provide for a comfortable and stress free life abroad later on.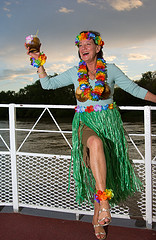 Create Income through Creativity

Your full time job doesn't have to be your only source of income. You may as well get used to being creative and bringing in money so that you will be better at it later on down the road. If you own a large house consider renting out a room to students. At $400 a month that could equal out to be enough to buy a beach house in Belize over a few years.
If you are friends with your neighbors talk about splitting on essentials such as a lawn mower or even create a communal garden. Think about tutoring students after school, sharing expenses with friends and looking around for alternative ways of saving and making money. You will be surprised at some of the options that are out there that could make life a lot more comfortable later on.
Get Out and Volunteer
The normal train of thought here is "who possibly has the time to volunteer?" If you do not have enough money as it is then why would you use up more time to work for free? In actuality volunteering is a very productive way to go about things when money is tight. In many ways you will get back quite a lot more than you put in.
Through volunteer work you can get an overall positive feeling about what you are doing and become a part of a very tight social network. This network can provide you support later on when you may need it most. Give what you can, even if it is just your time and remember that money isn't everything. Yes it is important for a happy retirement but it comes and goes, happiness can stay forever. Volunteering is a great way to teach yourself to appreciate the little things in life and realize that life isn't all about money.
Get Rid of your Mortgage
Mortgages are the main reason for stress from soon to be retirees. It is often the largest monthly expense for people and can put a major strain on retirement funds. Figure out if there is a way for you to up your payment now so you will not have to when you retire. It seemed like years ago many financial advisors warned against paying off your house, but that theory has gone out the window. If you can find a way to get full ownership of your home then you will be pretty comfortable when it comes time to call it quits.
If paying off your house in full is just not a viable option then maybe it is time to consider downsizing. Right now is proving to be the perfect time to buy a house for cash and there are a ton of options on the market. Seek out something small, comfortable and energy-efficient, and you could be well on your way to putting away more money for your retirement. If the kids have moved out there is no need to be holding onto your 4 bedroom house with a monstrous backyard, especially if it is weighing you down financially.
Get in the Right Frame of Mind
Money, money, money. Everybody is so focused on money all of the time, especially in this current economic situation. Of course it lays the foundation for life and retirement but it cannot always be relied upon. People are learning more than ever these days that money comes and goes faster than you even realize. We have to stop letting money control us and control what we do. If you want to break away and move abroad to retire, there are options. We can all learn a little lesson from the economic struggle lately and sort of realize what is truly valuable in life. A simple life on the beach with a cocktail in hand is a viable option if you get creative, cut back and put your mind to it. You do not have to be tied tightly to your desk job, your mortgage or your pension plan.
Is it easy? Of course not. Is it possible? Absolutely.
 
We, as people and as travelers, are all here for a reason. Even when we are down, out and broke, we still all have value. Figure out what you want from retirement and make it happen. Just enjoy the opportunities that are out there, be humble and remember that life doesn't have to be judged by the amount of money left in your pocket.
No items matching your keywords were found.