Laid Back Living, Cheap Cost of Living and a Thriving Economy
Besides great hospitality and serene beauty, Malaysia is known for a number of other marvels. Vibrant, colorful festivals, exotic natural beauty, and the fascinating sky scrapers are just some of the dazzling sights you will come across during a Malaysian adventure. You name it and Malaysia has it. It is always a uniques and exquisite journey filled with fun when you talk about Malaysia.  Cities like Kuala Lumpur represent contemporary Malaysia with its splendid buildings, namely the Petronas Towers. On the other hand, towns such as Melacca are immersed neck deep in rich, cultural history. Also, it delights me to add that Malaysia has been blessed with plenty of, and a variety of, flora and fauna that dwell in this paradise uninterrupted and provide tourists with an experience far from ordinary life.
Lifestyle in Malaysia
Malaysia is situated in Southeast Asia. Its capital is Kuala Lumpur and it shares borders with Thailand, Singapore, Brunei, and Indonesia. Due to its varied range of plant and animal life, it is also known as one of the 18 mega diverse countries. Climatically, it's like any hot tropical country, where heavy rain storms can be expected everyday during the evenings and where days are sunny, bright, and humid. Daily temperatures can reach up 35 degrees on any occasion so bathing suits and flip flops are a way of life.
Malaysia consists of a federal constitutional elective monarchy. Its population is estimated to be 25,274,132 at time of print. Malaysia is a multi religious country and Islam is its official religion although you will often come across a number of people that reside here and follow a mix of Hinduism, Buddhism, Christianity and some Chinese religions. Malay is the official language of Malaysia and it refers to a group of languages which are so similar to each other that they can be used interchangeably. Malay is also the largest tribe based in Malaysia who are defined as Muslims.
Work and Travel in Malaysia
Malaysia is a growing and, in comparison to others, a more state oriented market economy. It has recently experienced an economic boom and with a GDP of $14,400 per capita it is said to be a newly industrialized country. Malaysian Ringgit is the currency of Malaysia and 1RM = .29 USD at the time of print. Work in Malaysia is basically related to MNC'S, local companies, or for an embassy or chamber of commerce. It is possible to work with a tourist visa in hand but that does not provide you with much safety against many laws. If you are not specialized in any given field getting a work permit can be really troublesome. The average local pay is around $1,000 to $1,500 a month in the local currency.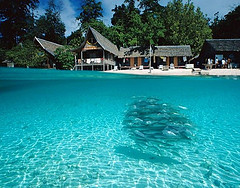 The majority of people within the country acquire citizenship through lex soli, however the areas of Sabah and Sarwak differ in this matter. Housing in Malaysia is still considered to be pretty affordable compared to other live abroad destinations. Just make sure that before taking on any rental agreement or signing any document that you have reviewed the tenancy agreement properly.
You may want to consider purchasing property if you intend on living in Malaysia for an extended period of time. However, if you are uncertain of your plans then renting is your best bet, and you are protected rather well under local law. Essentially, the Ringgit is currently struggling for a stable position in the international market and that is why housing remains relatively cheap.
Cost of Living in Malaysia
The cost of living in Malaysia is considerably low. Taxes are the absolute bare minimum as financial matters are often just left to individuals and there is no need to deal with most normal forms of taxation, including inheritance tax. Malaysia welcomes foreign investments and thus is a hub for providing employment and business opportunities to expats around the world.
The Malaysian government is catering very well to the needs of expatriates and is ensuring that Malaysia becomes one of the most comfortable places for foreigners to move abroad and settle down in. Even the national banks are getting in on the action and providing an abundance of housing and small business loans to foreigners that prove they can add value to the current society.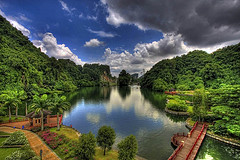 Stay in Malaysia for a Week or a Lifetime
From a tourism point of view the right time to visit Malaysia is right in the middle of the year, from June to August, but again it may vary as per personal choices. The growing economy, acceptance of foreign investment and low cost of living in Malaysia is contributing to it becoming an international hot spot for people looking to retire abroad or get a fresh start away from home.
Permanent living aside, Malaysia is also cementing its status as one of the ultimate spots in the world for fun filled and affordable vacations. Tour Lankawi, tan on the numerous beaches, visit the world's oldest tropical forests, peruse the colonial hill stations and visit the plethora of shopping districts and local markets. Whether you are looking for a long term change or just a short getaway, Malaysia deserves some consideration.
No items matching your keywords were found.