A Diverse Experience of a Lifetime
If Egypt reminds you of some movie which was filmed near pyramids or where the star fought off angry mummies, then it is definitely time for you to take a closer look at this unique live abroad destination. Egypt offers you sights, sounds, and a culture that is much more vibrant than pyramids alone. A unique blend of tradition and present day culture, Egypt offers to you a blissful journey through the historic times and then right on through to the current Hi-tech smart village. One glimpse inside and many travelers are left gasping for more.
From antiques, to Christian monuments, to temples, to a desert trek, to scuba diving, and everything in between, Egypt has it all. When it comes to tourism, Egypt has more than enough incentives to dangle in front of travelers. It is true that this is not a vacation destination that will suit everyone, nor is it a place where all expats would love to call home, but it does offer a life many people would do anything to bask in.
Geography and Climate in Egypt
Egypt is bordered by Libya, Sudan, the Gaza strip, and Israel. It is the 38th largest country in the world and offers an eclectic yet riveting way of life for many foreigners. In terms of weather in Egypt, it obviously does not rain very much and temperatures average between 27 to 32 degrees in the summer and 13 to 21 degrees in the winter. A yearly flood in the Nile replenishes the soil throughout the country and makes up for the lack of rain. Unfortunately, a sudden rise in the sea level has been noticed and many people believe it is a cause of global warming.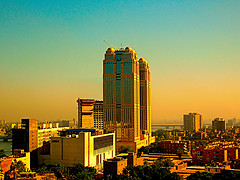 Lifestyle in Egypt
Egypt is governed by a semi presidential form of government.  The population is estimated to be 82,999,000, which mainly comprises of Egyptians, a number of Nubians, and quite a few Greeks.
Life in Egypt seems to have an unbelievable balance while still offering drastic differences from city to city. On one hand Egypt on the whole is so historically extravagant while at the same time cities like Cairo are a prototype of any major metropolitan city which has sky scrappers, hi tech systems, five star hotels, and is politically enlightened. It really is an incredibly unique blend. Egypt is a republic which follows the parliamentarian form of government. Islam is the official religion and the majority of the population consists of Muslims, yet there is a sprinkle of different cultures, people and religions that dot all different areas of the country.
Tourism in Egypt
Life in Cairo is advancing at the speed of light. As for the rest of the Egypt, the land of Pharaohs hasn't really lost that special touch and this is what places Egypt on a pedestal when it comes to many travelers wish list of places to visit. The must visits in Egypt are often considered to be Abu Simbel, Edfu temple, the Red sea, the Mediterranean, Kom Ombo temple, St. Catherien's village, and a never ending list of festivals and celebrations.
Climatically, Egypt will welcome you the most in off summer days, i.e, from October to May. The days are sunny but not overbearingly humid. If you plan on visiting Egypt during the month of Ramadan you will need to plan your trip only according to your priorities. Due to a strict rule of observation, touring around and interacting with the culture may not necessarily be as easy.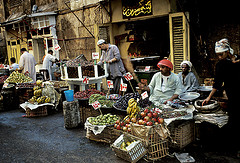 Working and living in Egypt
The official currency in Egypt is the Egyptian pound. The most acceptable alternative currency is the American dollar. Currently at the moment 1 Egyptian pound = 3.6 USD, thus, the cost of living here is cheaper than North America and Europe. An average Egyptian lives just on or below the western poverty line.
The reasons for some of the economic struggle relate to poverty, unemployment, and rising inflation. A major cultural difference that any expat or traveler will want to keep in mind is that the country survives on bakshish, aka tips or bribes, for any favor what so ever. Accordingly, if you plan to come and work in Egypt you should bear in mind the possible difficulties one may face after coming here. The cost of living is estimated to be $2,000 a month, but as we know you can change this figure drastically in either direction depending upon the lifestyle that you crave.

The Expat Community in Maadi
Through speaking with many foreign workers and people who have visited Egypt, it is said that expats can feel most at home in Maadi. Here you will find a large expat community and may find some guidance in terms of finding your way around and getting used to the new environment. Rent for housing tends to vary and usually starts at around $1,000 a month. For that price you can find a suitable two bedroom apartment that's well furnished in Maadi.
Best Places to Find Work in Egypt
Cairo, Luxor, Alexendria, and the red sea resorts are the prime spots where employers are seeking people for work, especially in the areas of teaching (especially language teachers, namely English), tourism, and real estate. Working in Cairo is a very viable option for many people as it brings with it a number of the perks and privileges that exist in a well knit modern city. To settle in Egypt means to kick start a new life which means you will need to socialize, interact, and get better at Arabic. If you have traveled to Europe looking for work, you may enter through a tourist visa and later convert it into something more permanent.
At the moment though, it is necessary to mention that the average salary and pay scale in most areas of Egypt are not looking to tempting at the moment. If you have your heart set on living in Egypt, or taking a long term vacation to Egypt, you still have a number of options. You can cut back on a number of things, live like a local and save quite a bit more money.

Travel to Egypt and Visas
To travel in Egypt citizens of almost all countries require a visa. A tourist visa is not that difficult to fetch from a European consulate. Though, in certain cases a visa on arrival is also permitted. Egypt is a very well knit country and is well connected to the rest of the world. Even within itself the transport network is very well built and surprisingly cheap and affordable.
Egypt in all ways is an incredible spot for a superb vacation. It is beautiful, it is diverse, it is friendly, it is serene, and your bank account is sure to love it when compared to other expensive destinations. There are a great number of people who have found employment in Egypt, settled in, and been incredibly grateful for the opportunity. However a move to Egypt is not for everyone and is going to consist of major changes in your life. Do your research, learn what you are getting yourself into, and then take the plunge. Preparation is the ultimate toll when it comes to living overseas and escaping your boring day job.
No items matching your keywords were found.