They say good things come in small packages and Belize happens to be perfect proof of that popular saying. To judge Belize simply by its size would not only be unfair but it would also force you to miss a lot of the exceptional sights and sounds that the country has to offer. Belize has everything to enthrall you and both a short and long term stay in this tiny nation will be an exquisite trip to a land of wonders. The small size of the country adds some extra spice on top of the usual ingredients that travelers can find within a successful holiday.
Geography and Climate of Belize
Belize is a country situated in Central America. It is bordered by Guatemala, Mexico, and the Caribbean Sea. The climate in Belize can best be described as tropical and its wet and dry seasons can be differentiated significantly, although there isn't much of a difference in the temperature which ranges just within 24 degrees and 27 degrees all year round.
Lifestyle in Belize
The population of the country is estimated to be 320,000, which makes it one of the least populated countries throughout all of Central America, and one of the smallest in the entire world. The capital city of Belize is Belmopan and the largest city is Belize City. Belize is the only country in Central America which has recognized English as the official language. Understandably this is what makes it such a popular vacation spot for foreigners and such an easy transition for expats looking to move abroad. Krio and Spanish are the other languages that are put to use in different areas all over the nation. Belize has a parliamentary democracy and constitutional monarchy and the currency is the Belize dollar. At the moment of publication the currency rate equals out to approximately 2 Belize dollars for every 1 US dollar.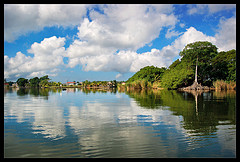 Tourism in Belize
Islands, fishing, scuba diving, snorkeling, rafting, kayaking, hiking, and bird watching are just some of the thing that tourists and locals alike dabble in while frequenting the country. The fact is that the small list I just mentioned is actually just the beginning and the list of attractions and destinations in Belize can go on for seemingly forever. However, what makes Belize such a great place to live and such an excellent place to vacation is the fact that it is so small that transportation and getting around is rather easy. You can partake in a number of different activities and tours daily without having to be stuck in a car or on a bus for hours. You can have a ton of fun without spending much time on the road.
The Belize barrier reef is both easily accessible and impressive. The Barton Creek caves are another highly sought after place in Belize and the Blue hole, as it is called, is the country's top scuba diving spot. Then there are the Mayan ruins, which reek of rich, historical heritage and natural beauty. Besides those often discussed spots, there is also the excitement provided by some of the best golf courses in Central American and of course the crystal clear water and pristine Belize beaches that receive a lot of international attention.
Travel to Belize
The international airport of Belize is Philip S.W Gldson. Many airlines serve this airport but most of the time flights will include a layover somewhere in the USA. Even still, this doesn't deter many foreigners from partaking in a memorable trip to the beautiful country.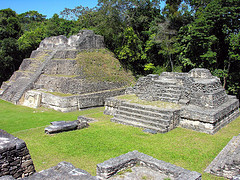 Work and Living in Belize
A valid passport that remains valid for at least six months beyond the duration of intended stay is a must have in order to access Belize. While the Belizean government is considerably serious about not letting any foreigners cut out on the job opportunities for locals, there still are two types of work permits that are made available for expats in Belize. These would be the application to employ a foreigner and the application for temporary self employment.
If you intend to stay more than six months then a proper work permit is a necessity in many instances, even if you are not working. One of the main differences in Belize over the last few years has been the decline in the average salary and some of the details involving cost of living. In the late 80's the average income was estimated to be about 6,000 USD but it has dropped considerably since that time. What this often means for expats is that the country offers an affordable place to call home or even retire. While the cost of living in Belize does vary quite a bit from place to place, there are ways to live comfortably on a lot less money than one would need in other places.
One of the big issues that people in Belize are dealing with recently is the insufficient housing that is placed all around the country. Houses are put up quickly and without much thought, which has caused some major issues over time. On top of this the reoccurring hurricanes that have hit the area have worsened the situation. In order to combat this, the government has begun developing some safeguarded low cost housing programs which should alleviate some of the problems and provide a bit of relief to local citizens.
The Retired Person's Incentive Program
A big bonus to consider when discussing a move abroad to Belize is the Retired Person's Incentive Program. This program can allow expats to live a completely tax free life which obviously increases your ability to live comfortably and spend frivolously. If you are not ready for retirement then there are other options, and many people are looking to start their own businesses in Belize that focuses around tourism. What you want to do is make sure that the economy can sustain your business before throwing all of your eggs into a Belize basket.
It really is all about choice when it comes to the cost of living in Belize. You can live well on a very moderate income if you choose to live like a Belizean, or you can spend thousands of dollars a month and enjoy your big SUV, expensive property, and all the hottest restaurants and clubs every night of the week.
Housing in Belize
In terms of rental housing you can usually find a small, comfortable flat for close to $1,000 USD in Belize City or opt for a larger house within a district such as Cayo for around $400 a month. If you want to look into buying land in Belize then you can find nice property for $5,000 USD and sometimes pay as much as $10,000 depending on where you want to live. Then there is also the route of just buying a pre-existing house which you can do for as little as $25 per square foot or as much as $250,000 depending upon the lifestyle and luxury that you want.

More Cost of Living Details in Belize
In terms of daily expenditures once again the pricing varies considerably in Belize depending on what you want or where you are. If you want to dine on imported goods then you are going to have to pay the price. If you are willing to enjoy home grown and local foods and goods then you are going to be able to save a lot of money. One thing about Belize as well is that you can save a lot of money by buying produce that is in season, seeing as it is usually about 50% cheaper. Better yet, just grow your own produce which is remarkably easy in the tropical climate.
The same sort of local concept goes for dining out, partying, and alcohol consumption. If you stick with local foods and alcohol and stay away from imports then you can cut down seriously on your monthly cost of living. If you keep the partying in check and shop around a bit there are ways for a couple to live on as little as $100 USD per week for food, drinks, and entertainment.
For utilities you are usually looking at an average cost of $30 per month for water while electricity is very pricey and averages out to around $100 a month. If you want cable TV then you can tack on an extra $20 a month and reliable internet will set you back about $55 a month. Obviously all of these factors depend on what you do, which utilities you use and so on, but these numbers should give you a reasonable idea of what you can expect in Belize.
Barring the natural calamities there isn't much that will bother you during your stay in Belize, and quite a bit that will dazzle you. It is a country that is most attractive to retirees and pensioners but there is also a fair amount of opportunity for work if you are willing to search for it. Belize on the whole has all of the ingredients for a magical vacation and enough to make it a wonderful place to settle down and call home. While the work opportunities may not attract many people to the country, holidaying is definitely one of the reasons people visit the country time and time again. Even if you cannot see yourself finding work in Belize, you are not going to want to leave once you dip your toes into the water and the culture in this country.
No items matching your keywords were found.