Chances are, if you are here on this site and reading this article, you have already established many reasons why you may want to move abroad and live offshore. There is no need to regurgitate the plethora of reasons that make leaving your current home land and seeking out opportunity abroad such a viable option. What we need to do together is find the best places to move to, retire to, or work in. It is no longer about why, now it is about the where and the how. Is there a way to find the number one, perfect haven, cheapest, prettiest, all time greatest place to move abroad? Highly doubtful. (If you find a way be sure to share it with all of us) However what we can do is tell you about the top spots for moving abroad as soon as we hear about them. And that is precisely why we are spending the day talking about Argentina.
Thanks to the internet, globalization, and a whole host of other factors, we now have access to more information when it comes to living offshore than we have ever possessed. It is easier than ever to compare variables and analyze factors such as weather, pension benefits, government structure, cost of living, and anything else we deem important. The fact is that with all this information it is still hard to separate the bargains from the rip offs, the exciting from the boring, and the beautiful from the average, because so much of it has to do with personal taste and preference. That is why choosing a place to move to comes down to personal choice so much of the time. Many expats and retirees want to relocate abroad yet still be close to home.  Accordingly, destinations such as Mexico and the Cayman Islands are popular for North Americans, and this is why islands such as the Barbados get overpopulated so fast.
However in many ways being close to home isn't all it is cracked up to be, for a few reasons. These areas are so popular that they quickly become filled with expats, they are westernized within a few years, and most importantly are far too costly for any average worker or retiree. Argentina sets itself out from the crowd when it comes to every one of those reasons, and a whole lot more. Enough with the lead up, let's talk about exactly why.
Why Move to Argentina?
Are you sitting down? If not, this may floor you. Who knew Argentina had so much to offer.
1-The infrastructure is top notch
2-Cost of living in Argentina is unbelievably low
3-It is tucked away down south, far from any major conflict or political turmoil
4-Health care is affordable yet very well managed
5-The weather is mild all year round with no danger from tornadoes or hurricanes
6-Argentina has no major international quarrels with other nations or extremists
7-The country is not dependent on foreign oil
8-It is one of the most self sufficient nations in the world
9-Real estate prices are relatively low and there are an abundance of stunning properties
10- Foreigners are given all the same rights that native citizens are offered
11-The citizenship regulations are lenient and accommodating
On the whole Argentina has gone relatively unnoticed as a live abroad hot spot. This is not to say that there aren't certain areas where expats have flocked to, or communities where the cost of living has been jacked up, but it is in no way comparable to places like Costa Rica or Mexico.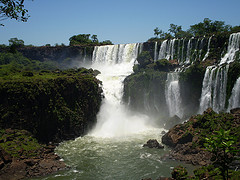 Mendoza Province is Undervalued which Equals Opportunity
One of the most underrated areas in all of Argentina has to be the Mendoza Province. The Mendoza Province is located in the northern part of Patagonia and has the distinguished nickname of being the "Napa Valley of Argentina." However even though we have all been taught to associate the words Napa Valley with the word expensive, such is not the case here. Even though the area is stunning and the properties are spectacular, real estate is considerably cheap at the moment.
This isn't to say that these prices will last forever though, as investors and large corporations are already starting to take notice. Real estate prices in Argentina have already gone up quite steadily in Mendoza city, but there is still a wealth of opportunity in smaller towns such as San Rafael that are located outside the main area.
Homeowners, Corporations and Investors are all taking Notice
Not only does Argentina offer the perfect infrastructure for life abroad but it is also a popular spot where smart investors are burying their money. Large companies are starting to invest in land that they plan to use for development, some are investing in wineries, and many are just laying the groundwork for a beneficial retirement. Better yet, anyone who is worried about the sustainability of natural resources and the overall health of the environment can jump on the opportunity to purchase an affordable, self sustaining farm in Argentina.
A Different Activity or Opportunity Around every Corner
All in all, Argentina is a viable destination for anyone looking to move abroad, live abroad, or retire abroad. It may be that the best way to describe this nation is as an oxymoron. So many other destinations are one dimensional; some people would even describe them as boring. If a sun filled life on the beach is what you are after, places like the Cayman Islands are a great choice. However, a lot of people are looking for a little more; a little more adventure, a little more uniqueness, and a little more character. That is precisely what Argentina brings to the table.
The country itself possesses every imaginable geographical feature. Plan your itinerary right and you could trek through a desert, climb mountains, ski in down snow-covered hills, and end the day sipping wine at a classically beautiful winery. From the oil wells in southern Patagonia to the mesmerizing Andes on the western border, the Gran Chaco desert, and the Pampas, home to the most fertile land in the world, Argentina has it all. When some skeptics think of life offshore or retiring overseas they picture a routine, laid back lifestyle. One look at Argentina and every one of those assumptions is laid to rest.
Have a look around, see what else is out there. Moving abroad or choosing a destination is not a decision that should be made after reading one article. Weigh your other options, ask questions but first just take a moment to consider what Argentina has to offer. A great resource to get you started is BBI Argentina. They have an abundance of properties you can look at that are scattered all over the country.
Whether you are intrigued by wineries for sale in the North region, farms for sale in Patagonia, condos for rent in Buenos Aires or anything in between, this will be a great starting point. You can locate them by clicking here.
No items matching your keywords were found.